Iranian Woman Chess Champion Banned for Bad Islamic Hejab
Know What Islam and Muslims Done to Iran!
Dorsa Derakhshani
Iranian Champion banned from tournament for bad hejab
Nazi Paikidze
Iranian Rooted Georgian American US Champion boycotted the tournament
Islamic Oppression of Women denying them their human rights
to participate in sports.
Islam = Sexual Apartheid
Kicking Islam Out of Iran
Iranian women refuse to wear Islamic hejab. It is time to stand up to Islam and Muslims.
It is time to take our country back from Islam and Muslims
It is time to put an end to Islamic Republic of Iran
It is time to End the reign of IRI.
Dorsa Derakhshani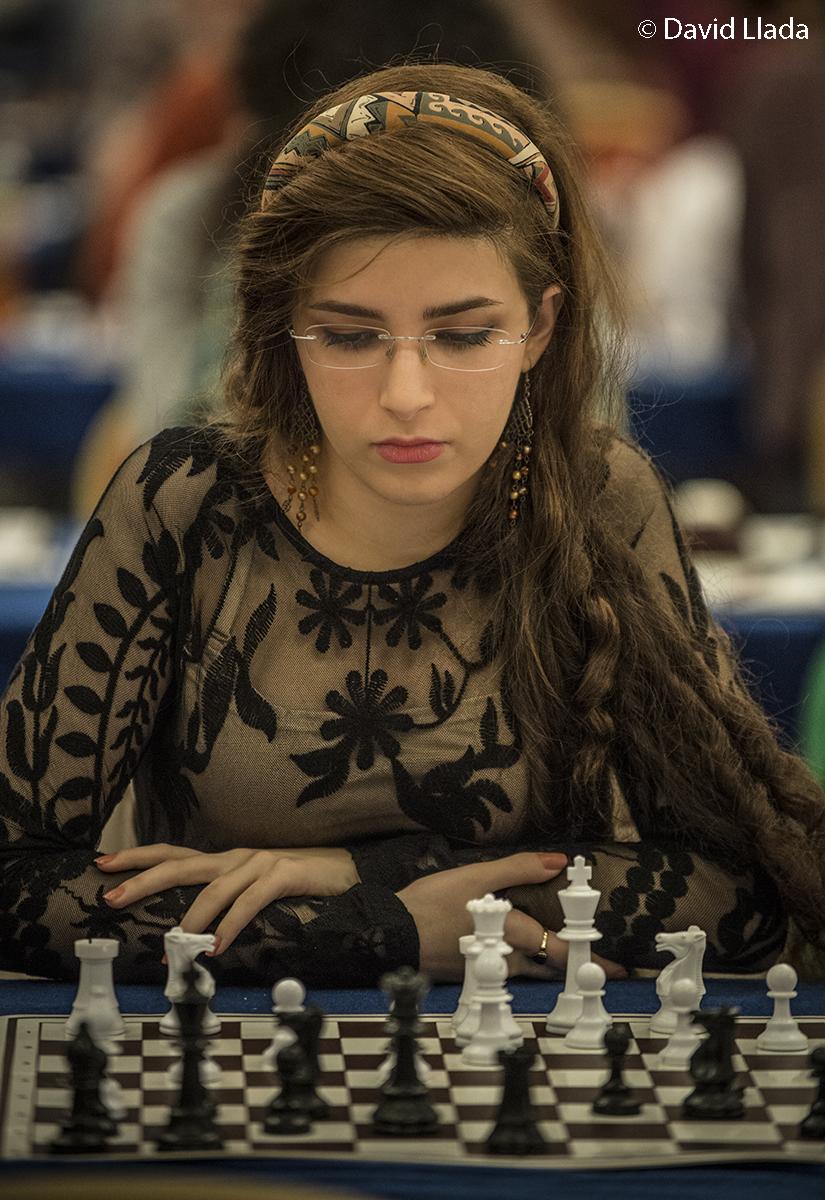 Dorsa Derakhshani
Dorsa Derakhshani
Dorsa Derakhshani
Dorsa Derakhshani
Nazi Paikidze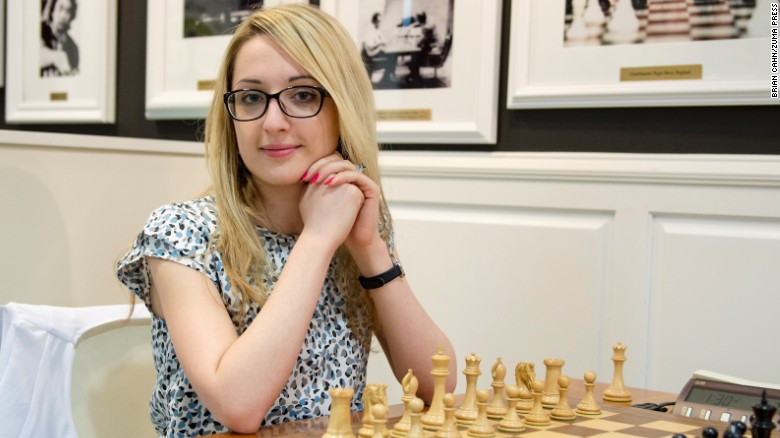 Nazi Paikidze
Nazi Paikidze
*
Teenage Iranian chess master banned from national team for refusing to wear a headscarf
https://www.washingtonpost.com/
To most observers, nothing stood out about Dorsa Derakhshani last month when she competed at the Tradewise Gibraltar Chess Festival. The 18-year-old female grand master fared fine on the board, twice using the Four Knights defense, and looked like any other teenager you might see in the British territory that borders southern Spain.
But to the head of the Iranian Chess Federation, Derakhshani practically committed an act of treason.
Mehrdad Pahlevanzadeh didn't have a problem with Derakhshani's play, but her headwear. Derakhshani wore a simple headband in her long hair, instead of a hijab, Iran's traditional headscarf, which became a compulsory accessory for women after the 1979 revolution. As a result, Pahlevanzadeh announced on Monday that Derakhshani would be kicked off the national team.
Derakhshani's younger brother Borna, 15, who also entered the tournament, was also kicked off the team. His offense was agreeing to play an Israeli opponent, a strict no-no in the country that doesn't recognize Israel as a state.
"Unfortunately, what shouldn't have happened has happened," Pahlevanzadeh told the semiofficial Fars News Agency on Monday (via Radio Free Europe). "Our national interests have priority over everything."
"As a first step, these two will be denied entry to all tournaments taking place in Iran," he continued, "And, in the name of Iran, they will no longer be allowed the opportunity to be present on the national team."
Neither sibling has commented publicly on the news.
That the two young chess masters received such a harsh punishment is not a surprise. Sports in Iran and other parts of the Middle East have long been affected by the region's strict cultural norms and precarious political stance.
Last year, American chess master Nazi Paikidze did not compete in the chess world championships in Iran because of the country's requirement that she don a hijab.
['I will NOT wear a hijab': U.S. chess star refuses to attend world championships in Iran]
"Some consider a hijab part of culture," Paikidze said in an Instagram post announcing her decision. "But, I know that a lot of Iranian women are bravely protesting this forced law daily and risking a lot by doing so. That's why I will NOT wear a hijab and support women's oppression."
The hijab made different headlines earlier in the year, however, when U.S. fencer Ibtihaj Muhammad became the first American to win a medal wearing the traditional headscarf. Muhammad earned a bronze in the team saber event alongside hijab-less athletes Monica Aksamit, Dagmara Wozniak and Mariel Zagunis.
[A fencing mask hid her hijab. Now, this U.S. Olympian wants to be heard, and seen]
"I have to challenge this idea that in some way we don't belong because of our race or our religion," Muhammad, whose parents converted to Islam before Muhammed was born, said last year.
She added: "Like within any religion, Muslims have conservatives, we have liberals, and we have everything in between. To paint all Muslims with one broad stroke can be frustrating."
*
I will NOT wear a hijab': U.S. chess star refuses to attend world championships in Iran
https://www.washingtonpost.com/
As one of the most successful women to ever play the male-dominated game of chess, Nazi Paikidze is used to having her moves watched closely.
Her latest has drawn international attention: Paikidze announced last week that she will boycott February's Women's World Chess Championship in Iran because the players will have to wear hijabs.
Paikidze's decision will deprive the tournament of one of the game's brightest stars and biggest draws — the U.S. champion who once told a magazine she would "do everything I can to help more girls get into chess."
Islamic coverings for women in public — required in Iran and some other nations such as Saudi Arabia — have increasingly become a target for both protests and struggles over Muslim identity. Some activists in Iran have launched online campaigns against the hijab rules, while other women continually test the boundaries by pushing back headscarves to near gravity-defying levels.
Yet some women in other Muslim countries, such as Turkey, have battled against restrictions banning headscarves in some public settings, while some conservative Muslim women in the West have pushed for permission to wear headscarves in athletic competitions and other venues.
[There is no hijab emoji. This 15-year-old student is trying to change that.]
"Some consider a hijab part of culture," Paikidze said in an Instagram post announcing her decision. "But, I know that a lot of Iranian women are bravely protesting this forced law daily and risking a lot by doing so. That's why I will NOT wear a hijab and support women's oppression."
Paikidze also launched a campaign on Change.org demanding that the World Chess Federation reconsider Iran as a host for the women's championship.
"These issues reach far beyond the chess world," the petition says. "While there has been social progress in Iran, women's rights remain severely restricted. This is more than one event; it is a fight for women's rights."
The petition has been signed by more than 3,000 people.
But some disagree with Paikidze's stance. Mitra Hejazipour, a woman grandmaster (WGM) and the 2015 Asian continental women's champion, said a boycott would be a setback for female sport in Iran.
"This is going to be the biggest sporting event women in Iran have ever seen; we haven't been able to host any world championship in other sporting fields for women in the past," Hejazipour, 23, told the Guardian. "It's not right to call for a boycott. These games are important for women in Iran; it's an opportunity for us to show our strength."
[The age-old war between Muslim clerics and chess players]
According to CNN, Iran was the only country that submitted a proposal to host the event. A WCF spokeswoman told CNN there were no objections from any of the 150 national federations, including the U.S. Chess Federation.
In a statement on its website, the WCF said: "It is not a [federation] regulation or requirement to wear a hijab during the event." The statement says the organization does require participants to "respect local traditions, customs, laws and religions at all times and be aware of your actions to ensure that they do not offend."
The statement said the Iranian Chess Federation had successfully organized another event in February, with no complaints.
Paikidze was born in Russia and raised in Tbilisi, Georgia, where chess was part of her elementary school curriculum, according to her biography. She began winning national tournaments and competing for international youth championships. When she turned 18, she moved to the United States to attend the University of Maryland Baltimore County, whose powerhouse chess team recruited her via scholarship.
She tied for second place at the U.S. chess championship in 2015 and became champion a year later. Her website lists more than a dozen awards. She's an international master and a woman grandmaster, is one of the top 100 active female players in the world and ranks fourth in the United States, according to the WCF.
The game that made Paikidze famous has deep roots in Iran, by some accounts dating back to the 6th century Persian empire, according to The Washington Post's Ishaan Tharoor. The game became deeply embedded in Persian culture and literary production. "Checkmate," the move that finishes the game, comes from the Persian shāh-māt, which means "the king is frozen" or "the king is helpless," according to the Metropolitan Museum.
The chess controversy reflects the wide spectrum of reactions countries have to Muslim veils. While Saudi Arabia and Iran have made it mandatory for women to cover themselves, other countries such as France and Belgium have outright bans on full-face veils — measures that have also been criticized.
When France introduced the ban on the full-face veil, a garment different from a hijab as it covers the majority of a woman's face, the U.S. State Department criticized the law calling it "an infringement on freedom of choice."
Even though women such as Paikidze are boycotting the law, some women do find comfort in the hijab. In an opinion piece for the Guardian, Nadiya Takolia, a researcher, wrote that the hijab has empowered her and guarded her from feeling like "a pawn in society's beauty game."
But in a society where a woman's value seems focused on her sexual charms, some wear [the hijab] explicitly as a feminist statement asserting an alternative mode of female empowerment. Politics, not religion, is the motivator here. I am one of these women.
[This Iranian activist fights for women's rights not to wear hijab. But Donald Trump has complicated her effort.]
In her criticism of Iran, Paikidze cited the "forced law" that made it mandatory for women to wear a hijab and mentioned "My Stealthy Freedom" project, which encourages Iranian women to post photos of themselves without their hijabs.
Within the first two days of its creation, 30,000 women posted photos of themselves. The page has been liked by more than a million people. It also shows pictures of Iranian women riding bikes, another illegal activity.
As The Post's Julia Carpenter wrote:
Displaying an uncovered head on Facebook is not as defiant as walking freely on a sidewalk in Tehran. But it's an important step, and one that more and more women are taking.
In one photo dated May 15, a woman is running in an open field, a colorful scarf streaming behind her. She's a distant figure; the vastness of the valley and the vivid blue of the sky almost hide her completely.
"My dear Masih," she writes, "I love this photo dearly. I took it a month ago in Shiraz near Sheshpir River. It was a sunny day and my husband said 'Don't you really feel hot? Be comfortable..!' So I removed my scarf from my head and started running in the plain.. I enjoyed the wind blowing through my hair so much that the sound of my laughter filled the whole plain."
Masih Alinejad, the founder of the project, said the photos are an act of courage.
"These women are extremely brave because they have posted their photographs on Facebook, which is banned under the law in Iran," she said. "They are in a way daring the authorities to arrest them. And with the publicity that the site has received, the pictures of these women are all over the world."
On Wednesday, Alinejad co-authored an opinion piece for The Washington Post about Paikidze's "morally courageous move," writing that the chess champion "should not have to boycott the tournament. ... Instead, Iran should respect her choice, make the headscarf optional and lift its ban on women who choose not to cover their hair."
As word of the boycott spread, Paikidze took to Instagram again to explain herself "to the people of Iran."
Nazi Paikidze Social Media Posts:
Post 1
This is a post for those who don't understand why I am boycotting FIDE's decision. I think it's unacceptable to host a WOMEN'S World Championship in a place where women do not have basic fundamental rights and are treated as second-class citizens. For those saying that I don't know anything about Iran: I have received the most support and gratitude from the people of Iran, who are facing this situation every day. Thank you MyStealthyFreedom for sharing my interview.
Post 2
A message to the people of Iran: I am not anti-Islam or any other religion. I stand for freedom of religion and choice. I'm protesting FIDE's decision not because of Iran's religion or people, but for the government's laws that are restricting my rights as a woman. My personal experiences with Iranian people have been nothing but wonderful One day I hope to visit Iran and see women having complete freedom and equality.
*
Young Iranian chess grandmaster expelled from national team for not wearing hijab
https://www.rt.com/
Iran has banned 18-year-old chess grandmaster Dorsa Derakhshani from competing for the national chess team for not wearing a hijab – obligatory dress for women under Iranian law.
Derakhshani was expelled for not covering her hair with the garment – compulsory wear for women since the Islamic Revolution in 1979 – while competing as an independent player in the 2017 Tradewise Gibraltar Chess Festival.
Her brother Borna, 15, has also been banned after competing against Israeli player Alexander Huzman in the same tournament.
The siblings have subsequently been precluded from competing in future international competitions for the Islamic Republic. Dorsa obtained her International Master and Woman Grandmaster titles last year and currently lives in Barcelona, Spain, after taking up the offer of a year's residency.
The head of Iran's Chess Federation, Mehrdad Pahlevanzadeh, was quoted as saying the Chess Federation will deal with the siblings in the "severest way possible."
"The first step in dealing with them would be to deprive them from playing in Iran, and they won't have a chance to be in the national team," Pahlevanzadeh said, Azerbaijani news outlet Trend News Agency reported.
Belgium-based Iranian gender discrimination activist Darya Safai tweeted a negative reaction about the move with the hashtag "forced hijab."
"Dorsa to me is the true feminist, not the Swedish government parading with the headscarf with [President of Iran Hassan] Rouhani," Safai said in a Facebook post.
Safai was referring to members of the Swedish government – many of whom self-identify as feminists – who visited Iran in February.
The Swedish delegation received criticism from many observers who saw the move as a legitimization of an enforced law that violates women's rights in Iran.
Under Iranian law, women are required to cover their hair and wear loose-fitting clothes when they appear in public and foreigners are obliged to dress modestly when entering the Islamic Republic for whatever length of time.
"By actually complying with the directives of the Islamic Republic, Western women legitimize the compulsory hijab law," Masih Alinejad, CEO of human rights group UN Watch, wrote on Facebook.
It is the not the first time Iran's insistence on female competitors to wear the hijab has caused controversy.
In September 2016, female players accused the World Chess Federation (FIDE) of failing to stand up for women's rights after it said competitors must accept local law and wear hijabs during the world championship in Tehran, Iran.
Female grandmasters risked arrest if they did not cover their hair during the tournament, which prompted US women's champion Nazi Paikidze to boycott the event.
Articles
Iran bans international chess siblings from competing in tournaments after one played against an Israeli and his sister refused to wear a hijab
http://www.dailymail.co.uk/news/article ... eting.html
Iran tells U.S. chess champion to wear a hijab – here's how she responds
http://www.theblaze.com/news/2017/02/21 ... -responds/
Young Iranian chess grandmaster expelled from national team for not wearing hijab
https://www.rt.com/sport/378130-iran-ch ... hijab-ban/
Teenage Iranian chess master banned from national team for refusing to wear a headscarf
https://www.washingtonpost.com/news/ear ... 6e0f2d5497
Videos
Dorsa Derakhshani banned
https://youtu.be/NKxo_-TRNI4
Round 2 Gibraltar Chess post-game interview with Dorsa Derakhshani
https://youtu.be/fybe_N4zv9Q
A quick chat with Dorsa Derakhshani
https://youtu.be/v9o7x1TzLAg
ChessCenter: Nazi Paikidze Boycotts Iran World Championship
https://youtu.be/fEZMM5wq0yU
Nazi Paikidze. Why Chess Grandmaster Refuses To Play In Iran
https://youtu.be/7DK4KLpnr7c
2016 U.S. Women's Championship: Winner Nazi Paikidze
https://youtu.be/PZ7bydKeuT8
Sites
Nazi Paikidze Site
http://nazipaikidze.com/
Nazi Paikidze - Wikipedia
https://en.wikipedia.org/wiki/Naz%C3%AD_Paikidze
Nazi Paikidze - Twitter
https://twitter.com/NaziPaiki
Nazi Paikidze - Instagram
https://www.instagram.com/nazipaiki/?hl=en
*
Dorsa Derakhshani
Dorsa Derakhshani
Dorsa Derakhshani
Nazi Paikidze
Nazi Paikidze
Nazi Paikidze