Private Life of Dr. Condoleezza Rice!
Condy, what a woman!
Tonight 7PM Pacifics Time (transform to your local time), Dr. Rice on 60 Minutes, CBS. Do not miss it!
Private life of Condy!
Concert Classical Pianist, but when working out, she treadmills, listening to Led Zeppelin's Heavy Metal sound!
Condy in my opinion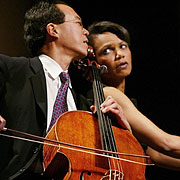 Condy is the most eligible and qualified candidate (if runs) for 2008 presidency. Why you ask?
Condy is highly educated.
Condy is a master politician.
Condy is a veteran diplomat.
Condy is a very sophisticated woman.
Condy is a great speaker.
Condy is an intellectual.
Condy speaks various languages including Russian.
Condy is a master in global politics.
Condy has class.
Condy knows how to negotiate.
Condy is an extremely powerful woman.
Condy is a great administrator.
Condy is a great manager.
Condy is a perfect organizer.
Condy understands music.
Condy is a fine musician.
Condy is an artist.
Condy has charisma.
Condy is very logical.
Condy is ……………
Besides, Condy has nice shins!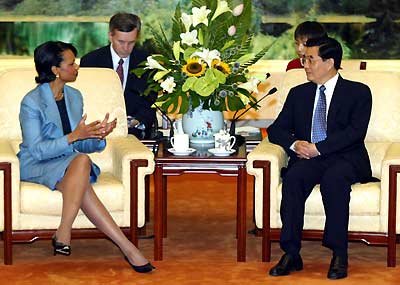 Look where Hu (Chinese President) is looking! Hu tries not to look @ her shins but we all know where his mind is!
Let's see if I can add another group to the list of my enemies!
Let me be frank with yous! I do not have much respect for HouseWives! I enjoy career women. I enjoy highly educated, sophisticated, talented, extremely intelligent, very powerful and knowledgeable career women. I love strong women. Rocket Scientists, Brain Surgeons, Aerospace Engineers, Aeronautic Engineers, Computer Scientists, Marine Biologists, Astronomers, and indeed Secretaries of State would do!
Let me be frank with you. The only thing "Desperate House Wivesâ€