Rush Limbaugh Explosive Interview on FOX News Sunday
Chris Wallace FOX News Sunday
Trump & Trumpism
Rush Limbaugh, King of Talk Radio, the most influential Conservative media personality in America and God Father of the American Conservative Movement had a rare appearance on FOX and in general on TV. Chris Wallace interviewed Rush on FOX News Sunday. As usual, Rush was blunt, explosive and controversial.
Rush explored Trump Agenda, Media Plan to Destroy Him, and Trump Phenomenon.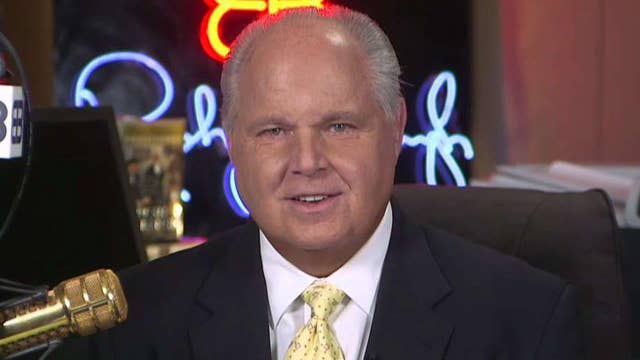 Who is Rush Limbaugh?
Is there anyone out there who does not know Rush? Then this info is for you:
Rush Limbaugh AKA El Rush Bo broadcasts from his EIB (Excellence in Broadcasting) Networks in his studio in Florida which the program is covered daily 5 days a week and reruns on weekends around USA with 20 million listeners which is the most number of listeners in USA tuning in to a Radio Show. The show is a 3 hours show which broadcasts daily on major AM Radio Stations (check your local listing). The show is from 9 AM to 12 PM on KOGO AM 600 in San Diego.
Rush Limbaugh's significance to Radio is similar to Sarah Palin's significance to Tea Party and Sean Hannity's significance to TV News commentary.
Rush Limbaugh is a king maker or eliminator. Rush makes you or breaks you in the Conservative movement.
Rush Limbaugh's analysis and logic cuts sheer into Fake News or as he puts it Drive By Media.
Please enjoy this rare interview on FOX:
Interview
Rush Limbaugh Interview – FOX February 19, 2017
https://youtu.be/3UUet_8HU8s
Rush Limbaugh Interview – FOX February 19, 2017 – Back up File
https://youtu.be/5UmsiVBOhQo
Sites
Rush Limbaugh Show
https://www.rushlimbaugh.com/
Rush Limbaugh - Wikipedia
https://en.wikipedia.org/wiki/Rush_Limbaugh
Rush Limbaugh Facebook
https://www.facebook.com/RushLimbaugh/
Rush Limbaugh Twitter
https://twitter.com/rushlimbaugh