Ashraf City Massacre in Iraq, 52 Dead
Obama Selling the Iranian Opposition to IRI
Special Edition
Iraqi Forces ordered by IRI, have murdered 52 Iranian Opposition members of NCRI
Blood of the Iranian Opposition is on the hands of Nouri Al Maliki and Obama
Every day, more and more, the Iraqi Regime is becoming a puppet satellite regime of IRI under the direct order of Iran. Of course Obama's Regime welcomes this act because Obama is entering direct talks with Rouhani and flirting with the Mullahs to appease IRI and look the other way while IRI becomes nuclear.
Early Sunday morning September 1, 2013, on the order of IRI, the Iraqi forces under the command of the Prime Minister Nouri Al Maliki stormed the Camp Ashraf, home to 100s of defenseless Iranian NCRI opposition refugees at the northeast of Baghdad. 52 people were shot dead including 6 women. Many were shot right away; others were arrested or kidnapped by the Iraqi forces. Many of the arrested were also executed on the spot by close range shot.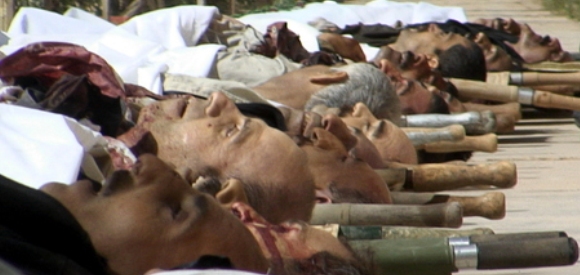 Qassem Sulleimani, the commander of the Iranian regime's Qods Force personally had ordered Faleh Fayyaz (National Security advisor of the Iraqi government) and Nouri Al Maliki (Prime Minister of Iraq) to carry out the fifth massacre of the Camp Ashraf residents.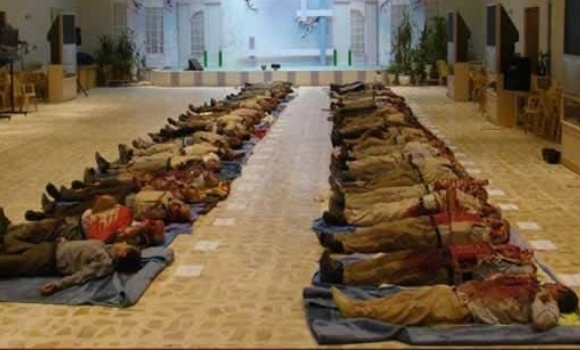 Maliki has ordered the Iraqi Prime Ministry staff and spokes persons to deny the killings in the Camp Ashraf. When they are questioned by the United Nations and other international organizations, they are to absolutely deny the massacre and to cover up the massacre at Camp Ashraf.
Some of the victims:
Fatemeh Kamyab, shot in the head
Alireza Khooshnevis, shot in the head
Ghobad Saeed-Pour, shot in the head
Hossein Madani, shot in the face and the head
Ghasem Rezvani, shot in the head
Hamid Saberi, shot in the head
Ahmad Voshaq shot in the head
More names and pictures:
52 Iranian Opposition Members Murderd by Iraqi Forces Under the Order of IRI
http://www.ncr-iran.org/en/news/ashraf- ... aqi-forces
Nouri Al Maliki is a criminal who committed crimes against humanity. Maliki needs to be tried in an International Court of Law for crimes against humanity and the Iranian Opposition.
While Obama flirts and trades love letters with Rouhani, Iranian Opposition members are being murdered by the Iraqi forces under the order of IRI and Mullahs inside Iraq!
New Best Muslim Friends: Hussein and Hassan
Obama's Socialist Regime and Rouhani's Islamist Regime have blood of the Iranian Opposition on their hands.

Obama failed the Iranian Opposition on 2009 and once again betraying the Iranian Opposition on 2013.
Videos
Massacre 1
http://youtu.be/DSKSWZndpEM
Massacre 2
http://youtu.be/jNlUkf5z-4Q
Iraqi Special Forces attack
http://youtu.be/e60eLCJO3eY
Shot after taking video
http://youtu.be/DgrZlHoadUg
Iraqi Special Forces
http://youtu.be/glu14kLOglo
Explosion
http://youtu.be/Zyu4jjjb1Ww
Wounded
http://youtu.be/VI16bAxnXsc
Murdered
http://youtu.be/Un19Upn8UGQ
Videos
http://beforeitsnews.com/alternative/20 ... 70302.html
FOX Video
http://video.foxnews.com/v/268357445300 ... attention/
US Colonel Cantwell speech
http://youtu.be/kuEjJGorrMg
UN Rep speech
http://youtu.be/aq3gRrXWhpc
Articles
Massacre in the Middle East which nobody is Talking About! – Iran Focus
http://www.iranfocus.com/en/index.php?o ... &Itemid=32
Ashraf City Raid – Iran Focus
http://www.iranfocus.com/en/index.php?o ... &Itemid=29
Ashraf City Massacre - Iran Emrooz
http://www.iran-emrooz.net/index.php/po ... ore/47363/