ISIS Dating Sites for Jihadi Women and Men
This is not a joke. This is the truth.
ISIS has a number of dating sites on the Social Media and Private servers, some encrypted and some not. Some get shut down by activist hackers, but ISIS creates new ones. The purposes for these sites are to draft new recruits amongst the Neo Jihadi Women and Men. These fresh recruits end up in Syria and Iraq, mating and joining the jihad against the West.
Muslim Child Bride Terrorist with Suicide Bomber Husband who participated in Moscow bombing at Russia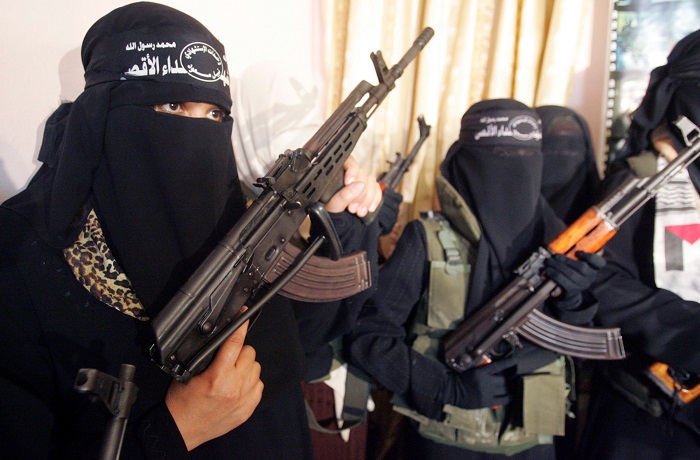 Videos and Articles
Ji-Hotties: ISIS Dating Site (CNN)
http://www.cnn.com/videos/world/2016/01 ... nt-tsr.cnn
'ISIS runaway' Yusra Hussien may have been lured to Syria by jihadi dating site (Mirror)
http://www.mirror.co.uk/news/uk-news/is ... en-4361896
Anonymous Hacker Group Shuts down ISIS Dating Site
https://youtu.be/oQEXlzWxpgc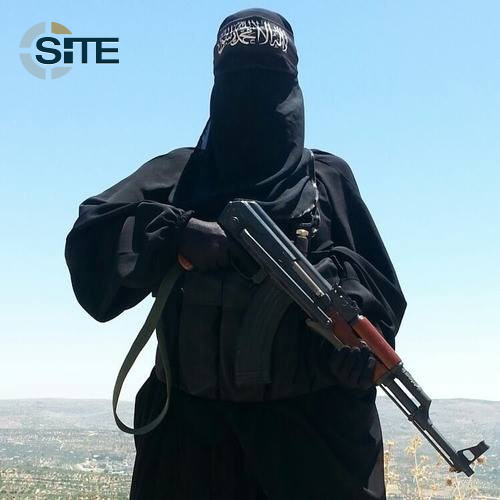 Articles
ISIS Has A Dating Site? No Joke As Missing 15-Year-Old Seduced On 'Jihadi Matchmaker'
Inquisitor
http://www.inquisitr.com
ISIS has set itself apart from other Islamic terrorist groups by the sophistication of its online and social media propaganda efforts which have helped lure hundreds, perhaps thousands, of impressionable young people from countries around the world to Syria to join the fanatical so-called Islamic State.
The group's social media efforts, unbelievably, include a dating service for radical Muslim fundamentalists — a Twitter account known as "Jihadi Matchmaker."
"The very idea of an ISIS dating site sounds like a sick joke, but it is proving all-too-real for one family in Bristol, England, whose 15-year-old daughter, police believe, ran away to join ISIS after contacting someone on the site and possibly falling prey to an online seduction by ISIS jihadists."
Yusra Hussien, whose mom calls her "a typical teenager…a very young bright bubbly girl who is loved by not only her family but her peers, teachers and her community," was last seen on September 24 when she cut school and got on a bus from Bristol to London's Heathrow Airport, where she met up with a still-unidentified 17-year-old girl.
How Yusra became acquainted with the 17-year-old is still a mystery, but the two girls then somehow were able to board a flight to Turkey. From there, British security officials believe, they may have entered or are attempting to enter Syria, where they would join ISIS.
At a tearful and heartbreaking press conference Wednesday, Yusra's 40-year-old mother Safiya Hussien begged her daughter to come home, but also said that there is "no concrete evidence" that Yusra had run away to become "a jihadi bride."
Nonetheless, U.K. security services say that the Jihadi Matchmaker Twitter feed has attracted hundreds of young women who become infatuated with ISIS fighters they meet online through the service, offering themselves up as marriage material.
How many of those young women and girls have followed through on their misguided online relationships and actually fled to Syria remains unclear. But friends of Yusra Hussien have said they believe she was "brainwashed" by her online contacts with extreme ISIS jihadists.
The Jihadi Matchmaker Twitter account has said that it is not affiliated with ISIS, but it employs the same symbolic imagery used by the ISIS propagandists as it offers women the chance for a "halal" marriage ceremony to a genuine jihadist militant in Syria.
"Picture all the little mujahideen running around," said one posting on the ISIS related matchmaking site.
*
Marry a martyr: Twitter's jihadi matchmaker
Jerusalem Post
http://www.jpost.com
Jihad Matchmaker encourages both men and women to send a direct message with their background, status and location, but no pictures.
Jihad Matchmaker encourages both men and women to send a direct message with their background, status and location, but no pictures.
Share on Facebook Share on Twitter
A new English-language Twitter account is trying to marry off women to jihadis, or Islamic holy warriors, in the Islamic-State-occupied parts of Syria.
The user, called Jihad Matchmaker, calls on men and women to send a direct message including their background, status and location, but requests not to send pictures. The account has also not verified that any matches were made.
The user has posted several tweets and retweets encouraging people to fast as a way to find their match and to "protect you from the hellfire and prevent you from sins."
The account denies any affiliation to Islamic State, but uses the same Islamic State imagery, such as a picture of lions retweeted from @babyanimals. Lions are often used as a symbol of Islamic State fighters.
The first tweet was posted on September 4, saying "Bismillah [In the name of God]! Jihad Matchmaker. The account aimed at brothers and sisters living in Syria, helping them to find their future halal [permissible] spouse."
Another post, from September 8, says "Keep it halal and get married: Picture all the little mujahideen [extreme Islamic militants] running around.. Prophet s.w would be proud
".
As of September 17, there were 130 followers, 47 of whom only joined in the five days prior.
The account comes amid reports of foreigners from around the world running away to Syria after becoming influenced by extreme Islamic streams. Men become violent militants, while women are quickly married off to fighters.
As a sign of the commonality of death among the jihadis in Syria, which Jihad Matchmaker and Islamic State members refers to as Sham, the account tweeted: "Sisters who have been widowed, we do not devalue infact [sic.] you are expensive in our eyes... inshaAllah [God willing] victory is near."
*
Web-based Dating Sites Used by Jihadists to Communicate, Recruit, Intel Sources Say
Anthony Kimery, Editor-in-Chief
Homeland Security Today
http://www.hstoday.us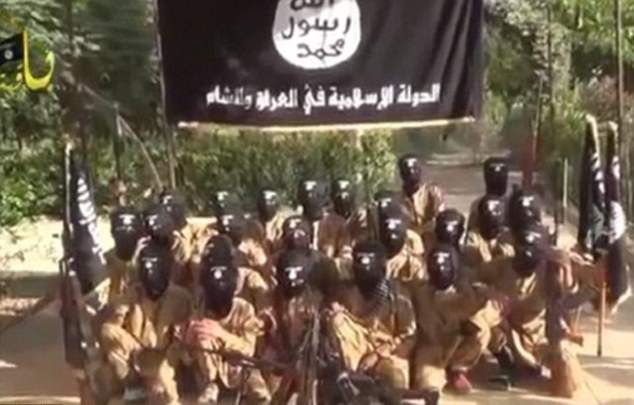 ISIS and other jihadi organizations and recruiters have moved beyond the use of traditional social media sites like Twitter and Facebook for recruiting and communication to using popular and lesser known dating websites targeting the United States and Western Europe to transmit plans and operations -- as well as to recruit and radicalize, according to senior US and Western counterterrorism officials who are involved in tracking the communication avenues of jihadists communing with Western recruits.
Interviewed on strict condition of anonymity by Homeland Security Today because they aren't authorized to talk about classified intelligence collection operations, the officials would not identify which dating websites are being exploited by jihadists, but said most of the sites being monitored are done so using specialized data mining software.
"While these sites are certainly being used to spread jihadist propaganda in an effort to recruit, these sites are also being used for communications purposes," one of the counterterrorism officials told Homeland Security Today. The official explained communications are established through unspecified social media sites through which code names are provided for individual profiles on dating sites so that individuals can search for an individual jihadist's online dating website name to initiate communication, which can range from recruiting purposes to providing real-time operational details to established lone wolf jihadists and jihadi cells in the West.
"This has been an overlooked social media platform that jihadists have made increasing use of," one of the officials explained, noting that "jihadists' communications through these [popular] dating websites are more difficult to track than social media like Twitter and Facebook."
Indeed. Once jihadists have paid to use a dating website they can then accept and send emails back and forth. And once these jihadists are connected, they can exchange their personal email addresses which they can then use to communicate outside the dating site's proprietary communication system.
Nevertheless, officials said specialized software has been specifically designed to data mine searches of dating websites for known and unknown jihadists who are exploiting the sites for communications and for identifying private email addresses which have been exchanged.
Meanwhile, there's been considerable debate and consternation between the White House and the Intelligence Community over whether to shut down these sites or allow them to stay active because of their value to intelligence collection.
"We're sort of caught in a Catch-22 situation ... do we shut down their modes of web communication -- like their use of dating sites -- or do we leave them alone; they do provide a valuable intelligence resource when data mined correctly," explained a senior counterterrorism official on condition of anonymity because he's not authorized to discuss intelligence matters.
Officials said the FBI has served National Security Letters (NSL) on companies that own and operate dating websites to identify private email addresses which have been exchanged between suspected jihadists to communicate outside the dating websites' internal proprietary messaging systems.
A NSL is an administrative subpoena issued by the FBI in authorized national security investigations "to protect against international terrorism or clandestine intelligence activities."
Companies which have been served with a NSL are prohibited by law from divulging that they've been served with a NSL, nor can they inform the party or person whom a NSL has been issued for information on.
The Stored Communications Act (18 U.S.C. § 2709), Fair Credit Reporting Act (15 U.S.C. §§ 1681u–1681v) and Right to Financial Privacy Act (12 U.S.C. § 3414) authorized the FBI to seek information that is "relevant" to an authorized national security investigation. By law, NSLs can request only non-content information, for example, transactional records and phone numbers that have been used.
What's most difficult in tracking these communications, officials said, is that once an individual communication is made, because of the nature of how these dating websites work, once an account is paid and unrestricted communications between individuals is allowed, the individuals then have the ability to exchange personal email addresses and to communicate directly through them with one another outside the dating website's propriety communication system.
According to sources Homeland Security Today interviewed, NSLs have been served on dating websites known to be used by jihadists to communicate in an effort to monitor the sites' proprietary email systems to identify the targets of the NSLs. Once the targets have been identified, the FBI can then petition the Foreign Intelligence Surveillance Court (FISC) for authority to access the content of the emails stored in National Security Agency (NSA) databases as well as the dating services' proprietary servers. The NSA monitors and stores the content of all Internet-based email traffic, but can only access or divulge the actual content of the emails pursuant to a FISC warrant, or the FBI using a NSL.
In addition to ISIS and other jihadi organizations' exploitation of popular Western dating websites, last summer it was reported that British teenager Yusra Hussien might have been lured to fight in Syria after being groomed on a jihadi dating website.
UK counterterrorism officials reportedly said 15-year-old Hussien from Bristol and another girl, a 17-year-old from Lambeth, south London, flew to Turkey in the hope of crossing into Syria. Both are believed to have been lured through a dating Twitter site called @JihadMatchmaker, which has slightly more than 500 followers and recently tweeted, JihadMatchmaker IS NOT LINKED TO ANY TERRORIST ORGANISATIONS."
Despite that caveat, British counterterrorism officials have said the Jihadi Matchmaker Twitter site has attracted hundreds of young women who've become infatuated with jihadi fighters they've met meet through the Twitter site who've offering themselves as available for marriage.
Last fall, the Jerusalem Post reported that the Twitter account "is trying to marry off women to jihadis, or Islamic holy warriors, in the Islamic-State-occupied parts of Syria."
But another recent post on @JihadMatchmaker read, "Fact: Many brothers are seeking marriage, but don't find the time to meet suitable families alongside their jihad."
While this Twitter account might be useful in attracting female jihadi recruits, counterterrorism officials said these sorts of social media sites are routinely monitored and that it's unlikely they're used to convey operational details -- that kind of information is going to be covertly conveyed through dating site connections jihadists know to connect with, and which are much harder to identify and monitor.
British counterterrorism officials said they believe more than 40 UK women and girls have travelled to Syria to join jihadi groups, especially ISIS. Authorities said they believe one of them, the Bristol teenage girl Yusra Hussien, was radicalized during communications with young ISIS men via the Jihadi Matchmaker Twitter site.
UK Police have since said they believe 43 girls and women have travelled from the UK to Syria.
The London-based Institute for Strategic Dialogue recently said it believes about 550 women from Western countries are currently living in ISIS-controlled territory.
Amarnath Amarasingam, a post-doctoral fellow and Islamist radicalization researcher at Dalhousie University who tracks ISIS members online, believes more than a dozen of these young women are from Canada.
In March, Newsweek reported that "ISIS [is] using similar online grooming tactics to paedophiles to lure western girls to their cause." And it's working throughout the West, US counterterrorism officials told Homeland Security Today on condition of anonymity.
Mia Bloom, professor of security studies at the University of Massachusetts, Lowell agreed, telling the National Post ISIS recruits Western girls in much the same manner that pedophiles prime their victims online.
Another Twitter-based dating site is @HalalMates, which has 57,000 followers. Other online sites include, Al Jihad Dating … and even an ISIS-related speed dating site reportedly established by British ISIS jihadist Abu Qa'qa Al Britani, who published an online guide for UK women who desire to find a jihadi husband.
Prospective partners are then offered a speed-dating meeting.
According to the Middle East Media Research Institute (MEMRI), a group that monitors jihadi social media, Al Britani "is a prolific writer on social media, with numerous Twitter accounts, Tumblr blogs and an Ask.fm account" who provides "advice to men and women who wish to emigrate to Syria or Iraq in order to join ISIS."
Important Related Article
Muslim Child Brides Pedophile Weddings
A Photo Gallery of Islamic Pedophilia
http://iranpoliticsclub.net/photos/musl ... /index.htm