Ali Akbar Hashemi Rafsanjani Passed Away
A Founding Father of IRI Left Us
The Wealthiest Man in IRI Departed
Powerful IRI Icon has Left the Picture
Ali Akbar Hashemi Rafsanjani Passed Away
Catayoun Razmjou
IPC Web Mistress
IPC.WebMistress@gmail.com
January 9, 2016
Rafsanjani Passed Away
Ayatollah Hashemi Rafsanjani, one of the founding fathers of IRI (Islamic Republic of Iran) has passed away at the age 82. Rafsanjani passed away due to heart problems. Amongst many political positions, Rafsanjani was a former president of IRI. Rafsanjani was known as "Akbar Shah" (King Akbar) because he had the power of a Shah and lived like a Shah!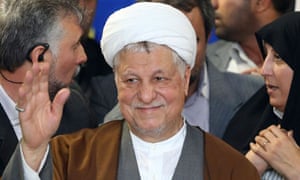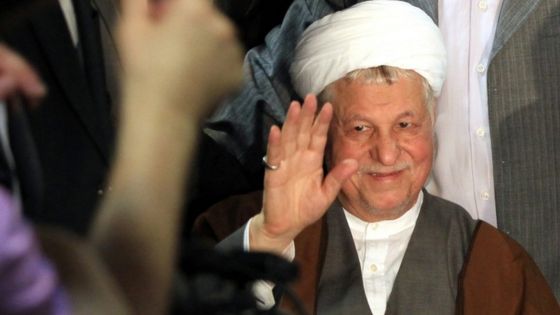 Aside from politics, Rafsanjani was a tycoon and a worthy businessman. Rafsanjani's nick name was "Commander of Construction" (Sardar-e Sazandegi) because he was in charge of the reconstruction of Iran which that is also controversial because Rafsanjani surely well built a Real Estate Empire for himself, but it is not clear that how much of rebuilding he had done for the country!
Rafsanjani manipulated and was in absolute control of all Iranian food exports to Canada and from there to America. Rafsanjani dominated the pistachio business both agriculture and markets in Iran. Rafsanjani was also a real estate tycoon. Rafsanjani had hands in many businesses. Rafsanjani was one of the few in Iran under IRI who had somewhat economical knowledge and wisdom. Through the IRI years, Rafsanjani built himself an economic Empire worth $ 1 Billion Dollars. How much of it was wisdom and how much was corruption, remains to be decided!
Rafsanjani family are from Kerman and has given their name from Haj Hashem, who was one of the Nogh's real estate men. When Akbar Hashemi was born, his father was a rich businessman.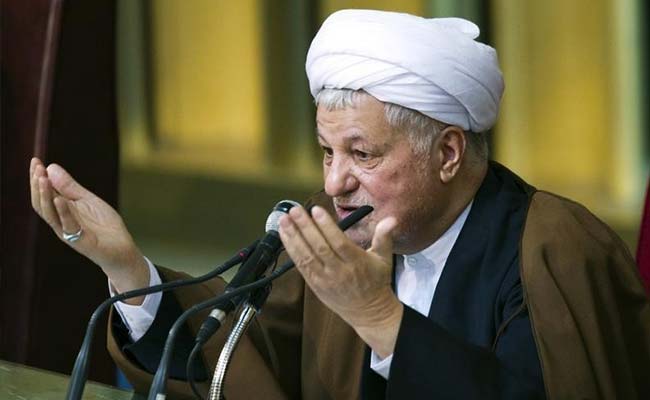 Hashemi Rafsanjani was known for his drunken behavior which eventually jailed him during the Shah era (before 1979) but Islamists changed the story and named him a martyr for Islam. They claimed that Rafsanjani was jailed for political activities!
From a local drunk to a real estate tycoon and a billionaire in over 38 years of IRI was the magic of Rafsanjani! He for sure built his bank account!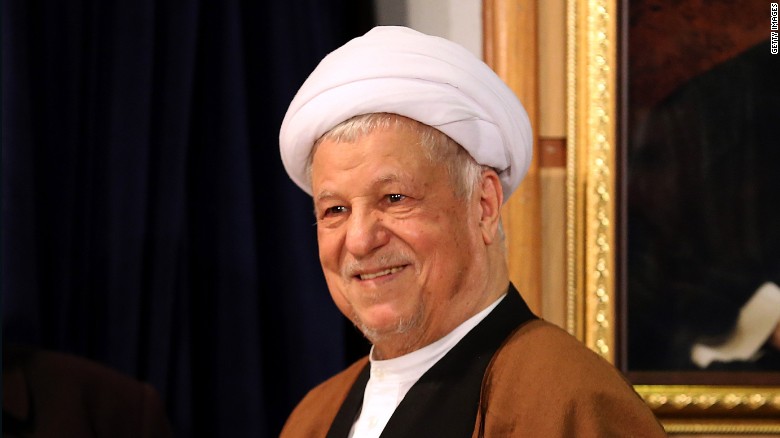 After the revolution, he was known for his family assets. Forbes Magazine named him as one of the richest persons in Iran. According to a U.S. congressional report, only Pistachio trade of his Rafsanjan gardens that is controlled by his cousin is more than 746 million U.S. Dollar. Rafsanjani was assumed to be the head of a family-run pistachio business, which grew to become one of Iran's largest exporters and provided the financial foundation for a business empire that would eventually include construction companies, an auto assembly plant, vast real estate holdings and a private airline. In 2003, he was listed as one of the Iran's "millionaire mullahs" by Forbes magazine.
Iran has declared three days of mourning after the death of former president Akbar Hashemi Rafsanjani.
Iran's Supreme Leader Ayatollah Ali Khamenei described the loss as "difficult and life-decreasing."
The former president was an influential player in Iranian politics and highly regarded by the Western officials.
Conspiracy Theories
Iranians are masters of conspiracy theories and already there are various rumors forming. Rafsanjani's son claims that the night before his father passed away, he met with a Sepah IRGC (Islamic Revolutionary Guards Corp) General. He was also destined to change the Constitution of IRI. When they taken him to hospital, they did not revive him or attempt to revive him! He demands autopsy for his father.
Other "Kargozaran" and "Combatant Clergy Association" members (Rafsanjani's political parties) claim that he had conflicts with Imam Khamenei and the Conservatives, so it is possible that the Right arranged his death!
Rafsanjani was the head of the "Moderate" (Miyaneh Ro) Movement of IRI which was in conflict with the "Conservative" (Nohafezeh Kar) Movement of IRI but often in coordination with the "Reformist" (Eslah Talab) Movement of IRI. These 3 are IRI political fractions.
The rumor is that Rafsanjani had plans for change in Iran in coordination with the Trump's president elect to calm the relations between IRI and USA and that is why the Conservatives eliminated him! Of course there is no evidence for this task. After all he was 82 and with heart disease!
Hashemi Rafsanjani was one of the most powerful men of IRI and the wealthiest man in IRI. In the recent years, the Conservatives undermined him and trimmed his political power, but he still remained the most powerful man in Iran's economy.
How Much was Rafsanjani Really Worth?
Rafsanjani has left an Empire for his family. Officially he was worth $ 1 billion dollars, but the conspiracy gossips also claim that he was worth much more than that, possibly billions more than that! Some even go as far as
$ 54 Billion
! One can never be sure of the depth of Rafsanjani's wealth stashed in offshore accounts!
Once the media asked him about one of his son's corruption case of weapon dealings and shipping dollars outside Iran? He said you guys should be ashamed of yourselves for speaking to me about a few millions! A few millions means nothing to us, speak to us about few billions!
This shows that even back then he had his mind and wealth over billions! If you consider all the funds stashed in off shore accounts and around the world, then
$ 54 Billion
makes sense!
Think about it: Net Worth of $ 54 Billion dollars!
I was under the impression that Rafsanjani was younger than Khamenei but Rafsanjani was 82 and Khamenei is 78! Rafsanjani surely looks younger than Khamenei! Rafsanjani really took care of himself! With all that money, I guess he really did take care of himself!
*
Ali Akbar Hashemi Rafsanjani Passed Away
BBC
http://www.bbc.com
Iran's ex-President Akbar Hashemi Rafsanjani, a dominant figure in the country's politics since the 1980s, has died at the age of 82.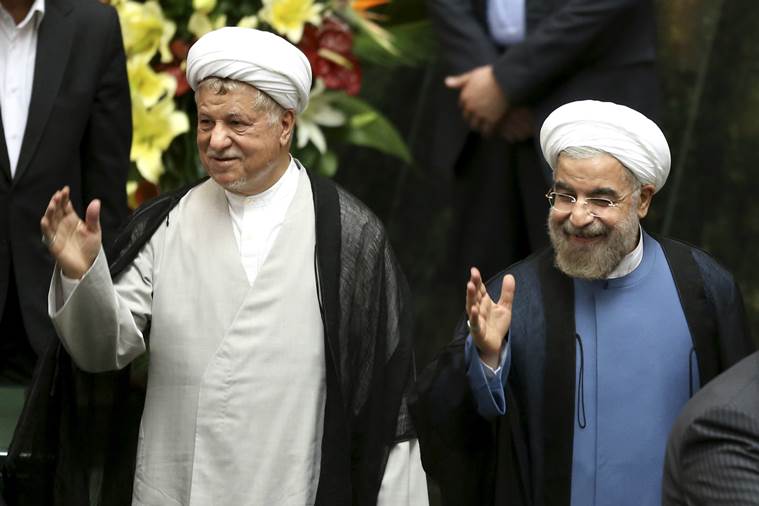 Mr. Rafsanjani, president from 1989 to 1997, suffered a heart attack.
He played a pivotal role in the 1979 revolution but later in life became a counterpoint to hardline conservatives.
Supreme Leader Ali Khamenei hailed a "companion of struggle" despite their differences, saying that the loss was "difficult and overwhelming".
"The different opinions and interpretations at time in this long period could never entirely break up the friendship" between us, Ayatollah Khamenei said.
There will be three days of national mourning and a funeral in Tehran is due on Tuesday, which has been declared a public holiday.
Mr. Rafsanjani was admitted to the Shohadaa Hospital in Tehran on Sunday, where doctors tried unsuccessfully for an hour to save him, media said.
A TV broadcaster broke into program to bring the news, saying Mr. Rafsanjani "after a life full of restless efforts in the path of Islam and revolution, had departed for lofty heaven".
Rafsanjani: The pragmatic conservative
Mr. Rafsanjani had warm relations with President Hassan Rouhani, who was seen at the hospital shortly before the death was announced. A crowd reportedly gathered at the hospital later to mourn.
In a tweet, the president said: "The soul of the great man of the Revolution, symbol of patience and resistance, has gone to Heaven."
The BBC's Kasra Naji says Mr. Rafsanjani was a great survivor of the Iranian revolution, always managing to stay afloat in the unending political struggles between the hardliners and the moderates, always remaining influential.
In recent years, our correspondent says, he has been a central figure in the reform movement that has been trying to have a moderating influence on Iran and Ayatollah Khamenei.
He has been a mentor to President Rouhani, whom he supported after his own attempt to run in the 2013 election as a reformist candidate was rejected by the powerful Guardian Council.
Mr. Rafsanjani's final role was head of the Expediency Council, which tries to resolve disputes between parliament and the Guardian Council.
A US state department official described him as a "prominent figure" throughout the history of the Islamic Republic of Iran.
Blow to reformists?
The sudden death of the veteran pragmatist politician will be a major blow to President Rouhani. The president, who is preparing himself for re-election in May, has lost a valuable ally and influential figure who was a founding father of the Islamic Republic.
This explains why Mr. Rouhani was the first top official to attend the hospital where Mr. Rafsanjani died. Reports say Mr. Rouhani was in tears.
Since the 2013 presidential election, Mr. Rafsanjani has fully backed Mr. Rouhani. Mr. Rafsanjani was also a staunch supporter of the landmark 2015 nuclear deal with world powers.
But in Iran's complicated political landscape, his death could also mobilize pro-Rouhani moderates and reformists ahead of the election.
Akbar Hashemi Rafsanjani was born in 1934 in south-eastern Iran to a family of farmers.
He studied theology in the holy city of Qom with Ayatollah Ruhollah Khomeini - who went on to lead the Islamic revolution of 1979 - and was imprisoned several times under the Shah.
In the last year of the 1980-88 war with Iraq, Ayatollah Khomeini appointed him acting commander-in-chief of the armed forces.
He was seen as the main mover behind Iran's acceptance of the UN Security Council resolution that ended the war.
Mr. Rafsanjani was also a key player in the development of Iran's nuclear program.
He was a man known for a sharp wit but who could also be ruthless.
He advocated progressive economic policies, encouraging private businesses and improving infrastructure. His own business holdings were reported to be widespread.
Mr. Rafsanjani ran for a third time for president in 2005 but lost to Mahmoud Ahmadinejad.
Mr. Rafsanjani became openly critical of the victorious president and in 2009; he sided with reformers who disputed that year's elections. Nevertheless, Mr. Ahmadinejad won a second term.
Mr. Rafsanjani continued to champion moderate causes, such as the release of political prisoners and greater political freedoms for parties prepared to work within the constitution.
Some of the members of Mr. Rafsanjani's family have also made the headlines. His daughter, Faezeh Hashemi, attracted the ire of hardliners when she met a leader of the Baha'i religious minority - which Iran's leadership regards as a heretical sect - last year.
And his son, Mehdi Hashemi Rafsanjani, was jailed in 2015 after being convicted of "security offences and financial crimes".
Obituary: Akbar Hashemi Rafsanjani
Akbar Hashemi Rafsanjani was a founding father of the Iranian revolution who went on to serve as the country's president between 1989 and 1997 and remained a powerful figure until his death on 8 January 2016, at the age of 82.
Seen as "pragmatic conservative", Rafsanjani was a leading member of the Iran's religious establishment who gained popularity in later life among the country's moderates. He boasted of a long-standing relationship with Supreme Leader Ayatollah Khamenei, while also calling publicly for greater freedoms for Iranians.
Rafsanjani was also one of Iran's richest men, and he maintained close links to Iranian industry and business throughout his life. In 2003 he was featured in the Millionaire Mullahs section of the Forbes Rich List.
He was dogged by accusations that he abused his political connections to amass a large personal fortune - allegations that he always denied. His wealth and leadership style earned him a nickname among Iranians - "Akbar Shah", or "Great King".
By 2002, he had fallen out of favor with conservative clerics, military commanders, and public, and he lost his seat in parliament. But the same year he was elected head of the Expediency Council, a powerful body that adjudicates disputes over legislation, and held the post until his death.
He ran again for the presidency in 2005 but lost to Mahmoud Ahmadinejad. In 2013 he attempted to run again, registering for the ballot with just minutes to go, but he was barred from standing by Iran's electoral watchdog.
He went on to be openly critical of Mr. Ahmadinejad and became a key supporter of his reform-minded successor, Hassan Rouhani.
Khomeini follower
Born in 1934 in south-eastern Iran to a family of farmers, Rafsanjani studied theology in the holy city of Qom with Ayatollah Khomeini, whose close follower he became. He was imprisoned several times under the Shah.
He was speaker in the Majlis (Iran's parliament) from 1980 to 1989. In the last year of the 1980-88 war with Iraq, Ayatollah Khomeini appointed him acting commander-in-chief of the armed forces.
He was seen as the main mover behind Iran's acceptance of the UN Security Council resolution which ended the war.
As president, Rafsanjani sought to encourage a rapprochement with the West and re-establish Iran as a regional power.
His influence in Lebanon helped to bring about the release of Western hostages there in the early 1990s.
Pragmatic politics
Domestically, Rafsanjani pursued an economically liberal policy which critics said failed to deliver on social justice. He also opposed harsh Islamic penal codes and promoted better job prospects for women.
His financial policies aimed to move Iran from the state-controlled economy of the Iran-Iraq war years to a more market-based system.
Under Mr. Ahmadinejad's presidency, from 2005 to 2013, he was a fierce critic of economic policies which he said seriously damaged Iran.
On the nuclear issue, he was in favour of negotiation with the West but warned his countrymen against "accepting bullying and imposition". Indeed, he warned Washington that its "threats" were futile.
In 2007, at Friday prayers, he spoke out against nuclear weapons and said he was disappointed that the US, which still has a nuclear arsenal, was trying to stop Iran from using nuclear energy for peaceful purposes.
Kingmaker
In 2002, Mr. Rafsanjani was appointed head of the powerful Expediency Council, which arbitrates in disputes between the Majlis and the Guardian Council which can block legislation.
In 2006, he was elected to the Assembly of Experts and a year later was voted leader of the body which appoints the supreme leader.
Hardliners within the Assembly of Experts were strongly opposed to Mr. Rafsanjani's bid to remain as leader in elections in January 2009. He stood against Ayatollah Mohammad Taghi Mesbah Yazdi, a supporter of President Ahmadinejad, and won a convincing majority.
In the 2009 presidential election, he backed the reformist Mir-Hossein Mousavi, who stood against President Ahmadinejad but was defeated.
Clash with Khamenei
Following that election supreme leader Ayatollah Ali Khamenei distanced himself from Mr. Rafsanjani and took away his title of Tehran's Friday prayer leader.
Rafsanjani also lost his position as the head of the Assembly of Experts. His son Mehdi and daughter Faezeh were temporarily imprisoned on what many saw as trumped-up charges to put pressure on their father.
He was attacked by the conservative and right-wing press for suggesting that he might register for the elections.
But among the country's moderates Mr. Rafsanjani was seen as a master manipulator who had a foot in the door of the establishment and a hand in the affairs of the opposition, and who could, theoretically, create a more open and predicable political climate.
Unable to stand in 2013, Rafsanjani supported moderate candidate Hassan Rouhani and Mr. Rouhani's win gave the former president an insider role in reform efforts, including the new president's push for nuclear talks with the US.
His sudden death will be seen as a major blow to Mr. Rouhani, who is preparing himself for re-election in May. Mr. Rouhani was the first top official to attend the hospital where Mr. Rafsanjani died. Reports say Mr. Rouhani was in tears, and a crowd gathered outside the hospital after the announcement.
Rafsanjani is survived by his wife, Effat Marashi, their sons Mohsen, Mehdi and Yasser, and daughters Fatemeh and Faezeh. Faezeh is a prominent women's rights activist and former MP.
Rafsanjani Net Worth - Who Gets Rafsanjani Money? After Death
Rafsanjani Net Worth - $1 Billion
Rafsanjani Akbar Hashemi was the fourth Iranian president; his net worth is estimated to be $1 billion and declining.
Rafsanjani Akbar Hashemi was a writer and influential politician before serving as president between August 1989 and August 1997.
Rafsanjani adopted a liberal economy that supported a privatization policy against more state-owned economic inclinations.
He is credited with Iran's reconstruction and economic recovery after the 1980-1989 war with rivals Iraq. Akbar improved relations with Arab states, central Asia and western countries.
Rafsanjani gave humanitarian aid to victims of conflict in Iran and shelter to Kuwaiti refugees. Forbes named him as one of the personalities in Iran.
Who Gets Rafsanjani Money? After Death
Rafsanjani family inherited their name from Haj Hashem, one of the Nogh's real estate moguls. He assumed the position of head family-run pistachio business, which matured to become one of Iran's leading exporters providing the financial base for a business empire that would eventually include vast real estate holdings, an auto assembly plant, construction companies and a private airline.
Rafsanjani is now deceased, having succumbed to a heart attack on 8th January 2008 aged 82 years. Even with his high net worth one thing is for sure, the wealth will remain in the family.
*
Video
Former Iranian president Rafsanjani dead at age 82 - FOX
https://youtu.be/DFzvXlWMRpY
Ayat. Hashemi Rafsanji dies of heart failure – Press TV
https://youtu.be/9B65EBNlQkE
Iranians in shock and sorrow over Ayatollah Rafsanjani's passing – Press TV
https://youtu.be/xIXGut4XRCI
Hashemi Rafsanjani was dead due to a heart problem - LenzIran
https://youtu.be/yTC8UT4kWcc
Iran mourns death of ex-president Hashemi Rafsanjani – Al Jazeera
https://youtu.be/t7CgOSQco_0
Iran's former president Hashemi Rafsanjani dies at 82 – Al Jazeera
https://youtu.be/foX1kqwYdGk
Iranians mourn death of ex-president Rafsanjani - AFP
https://youtu.be/yK3bJnIFPVM
*
News
FOX
http://www.foxnews.com/world/2017/01/08 ... -dead.html
CNN
http://www.cnn.com/2017/01/08/middleeas ... jani-dies/
CNN
http://www.cnn.com/2017/01/09/middleeas ... i-profile/
ABC
http://www.abc.net.au/news/2017-01-09/i ... es/8168990
CBC
http://www.cbc.ca/news/world/hashemi-ra ... -1.3926638
Press TV
http://www.presstv.ir/Detail/2017/01/08 ... Rafsanjani
Guardian
https://www.theguardian.com/world/2017/ ... i-obituary
Telegraph
http://www.telegraph.co.uk/news/2017/01 ... ling-blow/
BBC
http://www.bbc.com/news/world-middle-east-38548591
BBC
http://www.bbc.com/news/world-middle-east-22494982
*
Sites
Ali Akbar Hashemi Rafsanjani Site
http://www.hashemirafsanjani.ir/
Ali Akbar Hashemi Rafsanjani - Wikipedia
https://en.wikipedia.org/wiki/Akbar_Hashemi_Rafsanjani
Kargozaran - Wikipedia
https://en.wikipedia.org/wiki/Executive ... tion_Party
Combatant Clergy Association - Wikipedia
https://en.wikipedia.org/wiki/Combatant ... ssociation
Faezeh Hashemi Rafsanjani - Wikipedia
https://en.wikipedia.org/wiki/Faezeh_Hashemi_Rafsanjani
Mohsen Hashemi Rafsanjani - Wikipedia
https://en.wikipedia.org/wiki/Mohsen_Hashemi_Rafsanjani
Mehdi Hashemi Rafsanjani - Wikipedia
https://en.wikipedia.org/wiki/Mehdi_Hashemi_Rafsanjani
Yasser Hashemi Rafsanjani – Wikipedia
https://en.wikipedia.org/wiki/Yasser_Hashemi_Rafsanjani
*