New Iran Sanctions are Effective
Trump Maximum Pressure Policy
Maximum Pressure on IRI Begins
Free Iran Fist Iran Protests Poster
Iran Politics Club Poster
Iran Nationwide Protests 2017 – 2018
Trump dusting the Persian Carpet Daryl Cagle Cartoon
Trump Nowruz Persian New Year Cleaning! Look what came out of the Persian Carpet? Rouhani with Nukes! After 4 decades, it was time to clean the Persian Carpet!
New Iran Sanctions are in effect. 8 countries are temporarily exempt from only oil purchases:
Exempt: China, India, South Korea, Turkey, Italy, Japan, Greece, Taiwan
Reason for exemption:
1. Oil prices suddenly does not rise
2. Give time to these 8 countries to switch to another producer
These 8 countries already reduced their Iran oil purchases significantly.
700 companies and entities are now included in sanctions. Sanctions are focused on Iran's Banking, Energy, Shipping and other crucial industries.
Any nation or company which makes business with Iran, will not be making business with USA and will be sanctioned. America is watching Iran and nations and companies who make business with Iran like a hawk. Iran is under close surveillance.
Experts predict, by end of 2019, Iran's already shrinking and ill economy will shrink by another 15 %.
The goal of these sanctions is for Iran to abandon it's support for Terrorism. Iran is the number one state sponsor terrorism. It is time for Iran to join the civilized world.
Mike Pompeo and Steven Mnuchin on Iran Sanctions - Nov. 5, 2018
Secretary Pompeo and Secretary of the Treasury Mnuchin hold a press briefing on "Update on Iran Policy and Sanctions" at the Foreign Press Center, in Washington, D.C. on November 5, 2018
Video
Update on Iran Policy and Sanctions
https://youtu.be/J5aZfjgGsCU
Backup File
https://youtu.be/0qhKgTP-vQg
Can Iran survive sanctions?
BBC
http://www.bbc.com/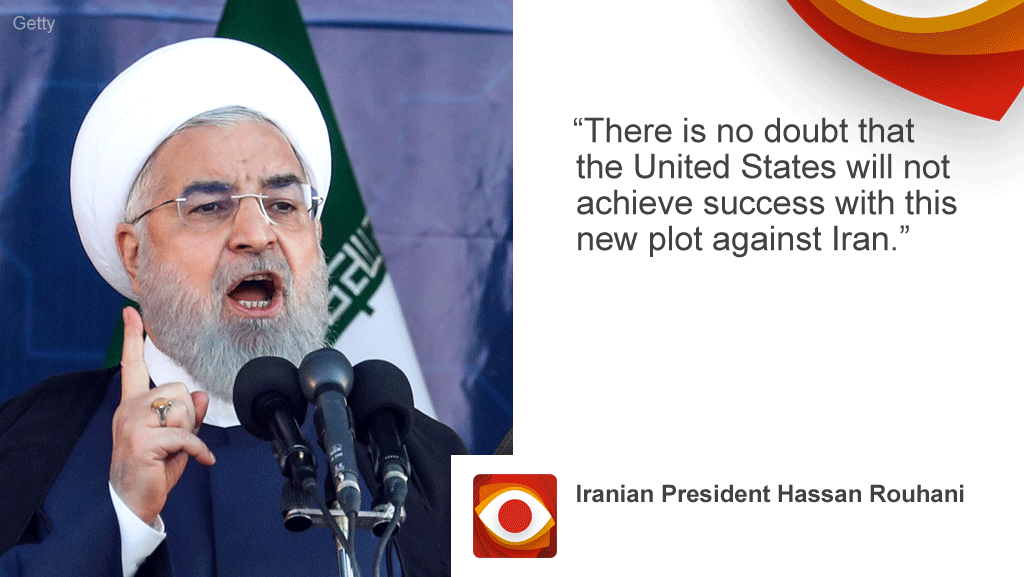 New tough sanctions targeting Iran's oil sector, imposed by the United States, come into force on Monday.
The Iranian president, Hassan Rouhani, has responded robustly.
"There is no doubt that the United States will not achieve success with this new plot against Iran as they are retreating step by step."
Iran is heavily dependent on its exports of oil, and renewed sanctions, if effective, would hit the economy hard.
The EU has proposed supporting companies trading with Iran despite these new sanctions.
But will these companies risk being hit by secondary sanctions which would limit their own ability to trade with the US?
Why is America imposing sanctions?
Angered at what he describes as a terrible deal, President Donald Trump earlier this year pulled the US out of a multilateral agreement reached with Iran in 2015, under which strict controls were placed on Iran's nuclear program in return for the lifting of a wide range of sanctions.
As a result, sanctions lifted by the US and others in 2016 are now being unilaterally re-imposed by the United States.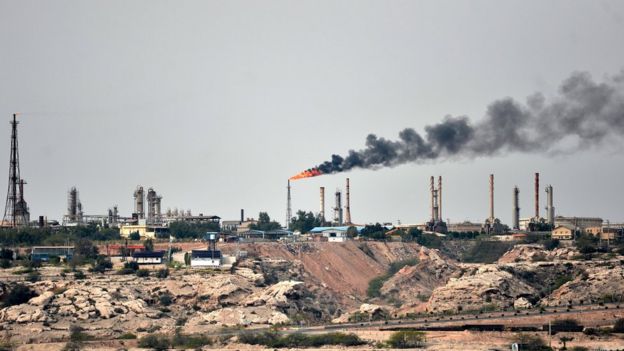 But other countries, including those of the European Union, believe Iran is holding to its part of the bargain on the nuclear deal and have made clear their intention not to follow America's lead.
Such is the dominance of the US in global trade, that even the announcement of the renewed sanctions has been enough to trigger a wave of international companies pulling their investments out of Iran, and its crude oil exports have been falling.
How will US sanctions work?
The latest US measures exclude any company that trades with Iran from doing business in the United States.
In addition, under far-reaching secondary sanctions, any US company faces punishment if it does business with a company that does business with Iran.
Sanctions on the banking sector will also be introduced on Monday. In August measures were imposed on a number of industries including trade in gold, precious metals and the automotive sector.
The US has made it clear it wants eventually to cut off Iran's oil trade entirely, but has allowed eight countries to maintain imports as a temporary concession to give them time to reduce imports. US allies such as Italy, India, Japan and South Korea are among the eight, the Associated Press reports.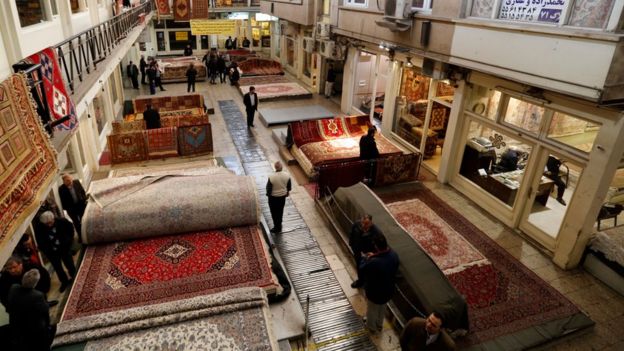 Getting around sanctions
In order to allow companies to trade with Iran and not face stiff US penalties, the EU plans to implement a payment mechanism - a Special Purpose Vehicle (SPV) - that will enable these companies to avoid the US financial system.
Like a bank, the SPV, would handle transactions between Iran and companies trading with it, avoiding direct payments into and out of Iran.
So, when Iran exports oil to a country in the EU, the company from the receiving country would pay into the SPV.
Iran can then use the payment as credit to buy goods from other countries in the EU through the SPV.
The EU has also updated a statute - called a blocking statue - that allows EU firms to recover damages from US sanctions.
So, will they hold?
Even with the EU plan in place, the costs of doing any Iran-related business could still be too high for many companies.
For example, even if the shipping operator were to purchase oil through the SPV mechanism, the company insuring the cargo may still face the threat of secondary sanctions and the potential loss of all its business in the United States.
Iran's economy isn't directly reliant on the US financial system, says Richard Nephew, a sanctions expert and senior researcher at Columbia University.
"But the issue is that most of Iran's biggest trading partners do and that affects their readiness to put at risk their access to the United States to do business with Iran."
He says small or medium-sized companies are more likely than large companies to use the SPV.
Another problem is that the product used in the SPV to trade with Iran may also violate secondary sanctions, says Leigh Hansson, head of international trade and national security at Reed Smith. "The transaction itself will be problematic."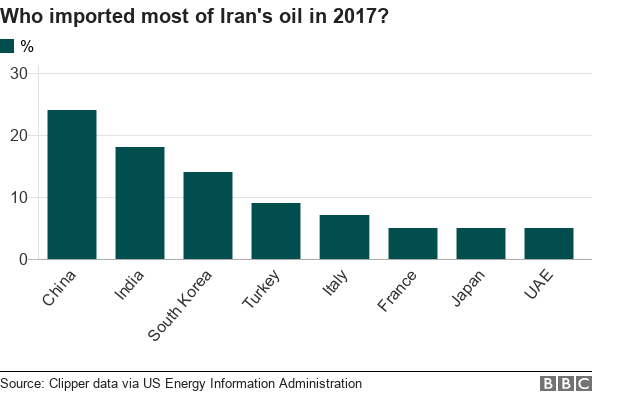 Temporary compromise?
The US had insisted on cutting exports to zero but that seems unlikely as it would increase the price of oil, says Scott Lucas, a professor of international politics at Birmingham University.
In addition to the countries allowed to continue buying Iranian oil, the backing of China, Iran's largest trading partner, may also prove critical.
The last time international sanctions were imposed on its oil industry between 2010 and 2016, Iran's exports fell by almost a half.
There's no doubt exports will be affected this time around too, but it's also clear that Iran and its remaining business partners will be working hard to maintain trading links.
"Don't be disillusioned about how painful this will be," says Ellie Geranmayeh, senior policy fellow at the European Council on Foreign Relations. But "Iran has weathered multiple rounds of sanctions before."
Iranians will be forced into finding creative ways to sell oil, relying on their years of experience of life under previous sanctions.
And to fill the gap left by lost European investment, Iran will be looking east to forge new links with Russia and China.
Related Articles
Iranian Joke of the Century: IRI Parliament Passes Anti-Terrorism Measures!
http://iranpoliticsclub.net/politics/jo ... /index.htm
Sahar Nowrouzzadeh IRI Spy in Washington DC
http://iranpoliticsclub.net/politics/sa ... /index.htm
IRI Iranian Hezbollah Agents and Lobbyists in America
http://iranpoliticsclub.net/movement/IR ... /index.htm
Iran Nuclear Lies: Nuclear Iran? Yes, Nuclear IRI? No
http://iranpoliticsclub.net/politics/nu ... /index.htm
End US Diversity Visa Lottery Immigration Program
Start Merit Based Immigration Program
http://iranpoliticsclub.net/politics/en ... /index.htm
Related Discussion Threads
Iranian Hezbollah Agents, Lobby & Front Businesses in USA Thread
viewtopic.php?f=46&t=1212
Iran Protests: IRI Islamic Regime Got to Go! Thread
viewtopic.php?f=7&t=1961
Catayoun Razmjou
IPC Web Mistress
IPC Office
http://iranpoliticsclub.net/