Iran Intercontinental Missile and Arm Bunkers
IRI Secret Underground Arm Bunkers
Iranian armed forces in underground missile tunnel
Sign reads:
Get ready to battle the Global Imperialism!
Iran tests new precision-guided ballistic missile
For the first time IRIB has portrayed a sample of IRI's underground tunnel bunkers full of Ballistic Missiles. The program was on national TV and it was a show off hint to USA and the West on the mighty IRI Military Power.
IRI Missile Arsenal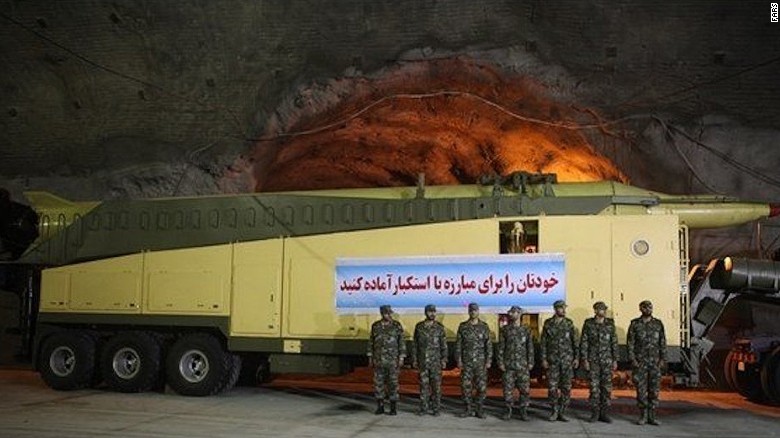 The underground facility shown on television was only one of "numerous missile bases" scattered across the country
Iran has a great number of Nuclear Sites, Underground Military Atomic Sites, Secret Missile Tunnels, and indeed Biological, Chemical and Nuclear Pileup Arm Bunkers. The sites are scattered all around Iran. Some sites are internationally known but many are secret underground military sites.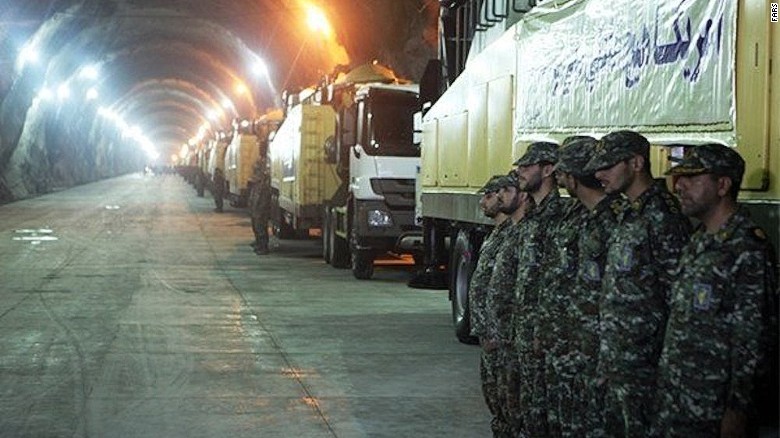 The release of this footage comes just a few days after state media reported that Iran had test-fired new generation long-range ballistic missiles.
IRI Intercontinental Missile Test
IRI already owns Nuclear Bombs and Intercontinental Long Range Missiles to hit targets in various continents.
Iranian State television unveils the country's underground missile silos
IRI is stockpiling arms, exploring new weapons and building a modern military fit not only for Middle Eastern campaigns but for global campaigns.
Semnan Missile Base
IRI Intercontinental Missile Test
Iranian armed forces have successfully test-fired a new domestically built ballistic missile.
Underground Missiles and other equipment in the IRI Underground Bunker
IRI Underground Bunker
The projectile dubbed "Emad" is a new generation surface-to-surface missile manufactured by Iran's Defense Ministry. Defense Minister Hossein Dehghan says Emad is the first domestic long-range guided missile. Dehghan noted that the production is considered a technological leap. The minister stressed that Iran doesn't need any country's permission to boost its defense might and missile power. Iran manufactures a wide range of missiles and other military hardware as part of its defense doctrine.
Video
Iran Ballistic Missile Test
https://youtu.be/lYxmB7YGIK8
Iran Underground Missile Bunker
For the first time ever, Iranian television has broadcast footage of a secret underground tunnel, stocked with missile and launcher units. Officials have said it is one of several such bases in the Islamic republic of Iran.
IRI Underground Missile Base
Located at a depth of 500 meters (1,640 foot) or (547 Yard) under the mountains, the footage shows a very long tunnel which appears to be about 10 meters (33 foot) or (11 Yard) high. It is one of many missile bases in Iran, according to the Brigadier General Amir Ali Hajizadeh, commander of the Islamic Republic's Revolutionary Guards' aerospace division.
"The Islamic republic's long-range missile bases are stationed and ready under the high mountains in all the country's provinces and cities," he said as quoted by the Guards' website.
Iranian Underground Missile Base
"This is a sample of our massive missile bases," he said, adding that "A new and advanced generation of long-range liquid and solid fuel missiles" will replace the current weapons in 2016.
He issued a warning to anyone who might threaten Iran by suggesting that they had better "Have a look at the Islamic republic's army options under the table."
Iran Underground Ballistic Missile Bunkers
Videos
YouTube
https://youtu.be/xrvGpOLBFz0
CNN
http://www.cnn.com/2015/10/14/middleeas ... acilities/
FOX
http://www.foxnews.com/world/2015/10/15 ... new-video/
Guardian
http://www.theguardian.com/world/video/ ... e-tv-video
An IRI Missile Bunker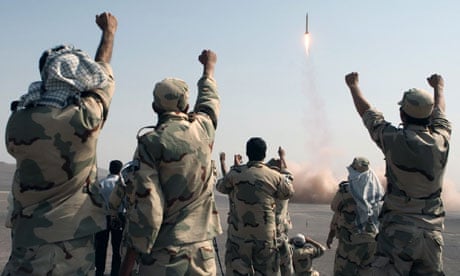 IRGC Revolutionary Guards Celebrate Successful Intercontinental Missile Test